Are you afraid of smiling? Has raising your hand to suppress your laughter become an instantaneous response? If so, you're demonstrating signs of poor confidence, which is usually associated with conditions like missing, decayed and broken teeth. Your painless solution lies with dental implants that not only restore your confidence but also allow you to smile your fullest and brightest. Dentures are no longer the only option available to you and therefore, you no longer have to worry about going toothless at night as your dentures sit soaked in water.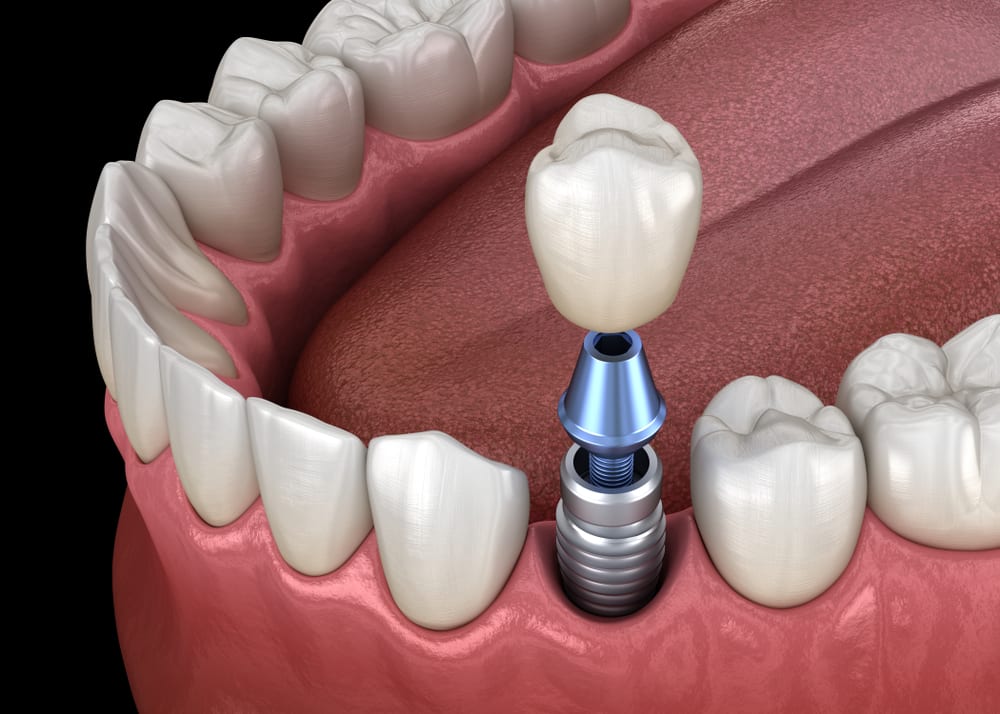 The American Dental Association (ADA) reports corroborate the importance and usefulness of dental implants. Implants help preserve bone structure by preventing bone loss, it provides ease and enables you to perform all the functions of natural teeth. In addition, they provide cosmetic benefits by improving your smile.
Why Get Implants?
Implants are necessary to correct the flaws in your smile. These flaws can be misaligned or missing teeth, gaps, or a chipped tooth. Aesthetically speaking, these defects can make your smile unattractive. Moreover, missing teeth can cause possible bone loss. The chewing and vigorous movement of the mouth preserves the jawbone. The pressure created from chewing plays a direct role in maintaining bone mass. Missing teeth can also contribute to premature wrinkles forming around the lips. All in all, not taking advantage of cosmetic dentistry can actually make you look a lot older than you are.
Millions of people around the world seek dental implants and are drawn by the benefits they offer. Dental specialists have evolved their practice by combining art and science and providing cosmetic and pain relief solutions to you all at affordable prices. Dental implants are your gateway to a comfortable and confident life by doing the following:
Improving your oral hygiene
Retaining youth appearance and delaying effects of aging
Improving your self confidence
Allowing you to express yourself openly
Supporting your facial structure
Providing immediate and long-lasting results
The Anatomy of Implants
Dental implants are made using titanium alloy – they have a biocompatible property which make them highly suitable for this type of procedure. Plus, titanium due to being the least allergy prone substance is considered a top preference for implants. Dental implants serve as substitutes for missing teeth. The replacement process includes three aspects:
Crown: the crown is the replicated tooth made to resemble a natural tooth by using ceramic materials.
Connector: the connector, as the name suggests, secures the crown to the base, making sure it is properly supported.
Base: the base is a titanium screw that fits within the natural bone forming a permanent fixture.
If you require a procedure that treats more than a single missing tooth, you can opt for the All-on-4 dental implants. This term refers to the process of supporting all teeth on four dental implants. Patients with major tooth loss often due to gum diseases may find this option suitable. It is also relatively cheaper than getting implants individually. Since the procedure uses fewer implants, it cuts down on the total cost of implants and saves time as well. For those of you who know the struggles associated with dentures, being able to get a complete set of non-removable teeth in one go is a blessing in itself! Add to that full sedation, which makes the procedure as pain free as possible.
Remember to always learn about your options beforehand. When you gain insight into the options that are available to you, you get to choose the one which is the most suitable. Although, you can always rely on your dentists to determine which option works best for you, sometimes your judgement in regard to your condition can be more accurate.
Seek out a well experienced and qualified implant specialist to conduct procedures for you. Share your needs and concerns and allow him to guide you through the process of tooth replacement.
A malignant tumor changes the internal structure of the organ it invades. The gross appearance of the tumor is very different from organs in the body, since it is created from carcinoma cells. Thus when carcinoma spreads to an organ, for instance when a malignant tumor invades a bone, the malignant tumor completely changes the composition of the bone. The bone will now be composed of carcinoma cells, not bone cells.
What Are the Costs?
Your first concern is most certainly the costs involved in seeking dental implants. A specialist will best guide you towards the costs taking into account your customized treatment plan. Many specialists offer free consultations, which are meant to give an idea as to how much you'll be spending. In addition, they may even share information about some dental insurances that may be willing to cover some of the costs of your procedure. It is worthwhile to explore your options and consult with any reputable specialist you know.